Before you splurge and buy a new fondue kit, be aware that all fondue sets were designed with a specific purpose in mind, and a particular fondue pot should never be used for something it was not designed for.
This page will provide you with all the information you need to make an informed decision on the type of fondue pot, fondue forks, and all other fondue gear you may need.
You can learn more about reliable fondue equipment brands here. You can also learn how to fondue and read about fondue etiquette here.
---
Fondue Pots
The fondue pot (or caquelon) is the most important piece of fondue equipment. You may have one that's been gathering dust in your cupboards since the 1970s, but that doesn't mean that it's the one you need for the type of fondue you like!
Here are the main categories of fondue pots:
Cheese Fondue Pot.

A fairly constant temperature is required to keep melted cheese from solidifying again. This is why pots warmed with a tealight are not meant to be used as cheese fondue pots.

Cheese fondue pots are normally made of earthenware, have a flat bottom, and have large openings to accommodate dipping.

Hot Oil Fondue Set.

Hot oil fondue pots must be able to withstand a very high temperature without cracking. As such, these pots are made of stainless steel, copper, or cast iron.

Note: ceramic pots are not suitable for hot oil fondue.

Broth Fondue Set. Broth fondue pots are pretty much the same as hot oil fondue pots.
Chocolate Fondue Set.

Chocolate or other dessert fondue pots are normally smaller than the typical fondue pots and use a tealight to keep the melted chocolate at the right temperature.

Chocolate fondue pots are made of earthenware, ceramic, porcelain, or sometimes tempered glass. Learn more about finding the right type of chocolate fondue maker for you.

Chocolate Fondue Fountain.

Chocolate fountains are becoming more and more popular. The main advantage is that the melted chocolate is flowing and does not form a hardened ball like some fondue pots tend to do. Also, a fountain can accommodate a lot more guests than a single chocolate fondue pot. However, they are significantly more expensive and can take a lot more room.
Electric Fondue Pots.

In recent years, several electric fondue pots have emerged. Some of these electric fondue pots are versatile enough to be used for all types of fondue, and as such, are considered to be the best investment for fondue beginners or those who are culinarily challenged…

Simply plug it in, set the temperature, dip, and enjoy. I recommend you fully research the product you are considering before spending your money and make sure that you have an electrical outlet in a convenient location!
If you don't like doing dishes, keep in mind that not all fondue sets are dishwasher safe.
Ideally, a fondue pot is shared by up to 4 people. You could stretch that to 6 people depending on the size of the fondue pot. Learn more about various fondue pots.
Read my reviews and recommendations for Rival fondue pots and fountains here.
---
All Fondue Sets – Fondue Fuel
You have to get the right type of fuel for the fondue pot you're using. Look at the burner that came with the pot and read the instructions if necessary. Here are the most common types of fondue fuels:
unscented tealight. Small tealight candles are used for chocolate fondue. Simply ensure that you use unscented candles and keep a supply on hand for when the light goes out.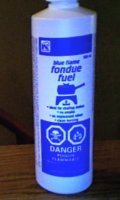 Alcohol. This is a very common type of fuel for fondue burners. A few precautions must be taken when refilling the burner:

Never refill the burner while it is still hot.
Never leave the fuel container near an open flame or another heat source.
Do not overfill the container when filling or refilling it.
Fondue Gel. Make sure that your burner can accommodate gel fuel. It is very similar to alcohol-based fuel but not as dangerous.
Sterno. This particular brand of fuel is like fuel in a box. Buy it, light it and use it. When you are done, extinguish the flame and you can keep it for future use.
One thing that all fondue fuels have in common is the requirement to store them away from children and pets. To learn more about fondue fuel, read this page or learn how to light your fondue burner here.
---
All Fondue Sets – Fondue Forks
Different types of forks exist for different types of fondue. Mainly, there are two types of forks:
Meat and Cheese Fondue Forks. These forks have two or three prongs and long handles to ensure you don't get burned with the hot oil, hot broth, or hot cheese.
Dessert Forks. Dessert forks are shorter than the meat and cheese forks yet still long enough to be dipped into the melted chocolate without getting your fingers burned.
When buying your forks, you want to make sure that the handles will be able to withstand the heat without passing it on to your guests!
You may want to get your hands on the trendiest piece of fondue equipment: illuminated forks!
If you're planning on having meatball fondue, you should have a special dipping wire mesh spoon.
Fondue forks are color-coded so that each guest has a reminder to not steal from others and stick to their color. If you don't have forks, you can use a bamboo skewer as a replacement but they are not ideal. Learn more about fondue forks here.
---
All Fondue Sets – Fondue Plates

Plates like the ones shown on the right were designed with fondue lovers in mind and have several compartments for you to use. There are no set rules here, so do whatever you want.
You can have various dips in these little compartments or perhaps raw and cooked meat or even have side dishes (e.g., rice, salad, etc.). Experiment and have fun.
Learn more about fondue plates here.
---
All Fondue Sets – Dipping Trays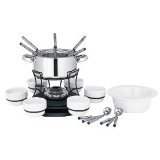 Some lazy susan fondue sets like the one shown on the right have a variety of small bowls around the fondue pot.
These bowls or compartments were designed to hold the various dips that you prepare for your guests.
If you don't have such a fondue set, use small bowls or short glasses, and make sure to rotate them through the evening so your guests can try all your dips.
---
All Fondue Sets – Cheese Fondue Kits
You can purchase fondue cheese online or from your local grocery store and grate it all.
Or, if you're looking at an easier way to make cheese fondue, several companies make cheese fondue kits like the one shown below, which is ready to be melted.


No cheese grating, no measuring and possibly ruining a recipe.
These kits are sometimes called instant fondue kits or heat and serve fondue.
All you have to do is open the pouch, stir and melt, then stir some more and you're ready to start dipping.
---
All Fondue Sets – Chocolate Fondue Kits

Similarly, if you're looking at an easy way to make chocolate fondue, several companies like Sephra Chocolate Fondue & Fountains
make milk chocolate, white or dark chocolate fondue kits that are ready to be melted like the mix shown in our sub-menu.
Shop around and make sure that the expiry date hasn't come and gone already.
Here are some chocolate mixes for fondue fountains and fondue pots that I recommend.
---
All Fondue Sets – Tips
So you have the right fondue set on hand? Other things to be considered when planning a fondue party are as follows:
Make sure that your table is large enough to accommodate the number of guests you have invited and all fondue sets.
Make sure that you have enough fondue pots to accommodate the number of guests, with 4 people to a pot as an ideal situation.
If using an electric pot, make sure that the cord will not be in the way and cause one of your guests to trip and possibly spill the contents of the pot.
Make sure that the fondue pot will be placed on a stable flat surface and will not have to be moved while the contents are still hot.
Keep your fondue fuel away from children and pets.
Keep your burner cover nearby in case you need to extinguish it in a hurry.
Always have another bottle of fondue fuel available just in case you run out.
Most importantly, be safe and have fun.