There are many ways to incorporate meat in your fondue nights. These meat fondue recipes will give you many options, from broth-based fondues to hot oil fondues (also called fondue bourguignonne).
You can find the right recipe for your favorite meat on our sitemap or use our navigation menu.
Depending on the type of fondue you're having, the meat can be thinly sliced (broth-based fondue) or diced (hot oil fondue). Meatballs can also be used in hot oil fondue.
---
Fondue Bourguignonne – Hot Oil Meat Fondue
This type of meat fondue is probably the easiest, tastiest, and fastest meat fondue to prepare but it is also the most dangerous and most fattening meat fondue recipe. There is a time and place for everything, so you can decide what best suits your fondue party.
It is extremely important to use the right fondue equipment for hot oil fondue. Make sure to read these hot oil fondue tips before you get started.
---
Broth Based Meat Fondue Recipes

This type of meat fondue is a little more time consuming but can be as tasty as the hot oil fondue. Most importantly, you get to choose exactly what goes in the broth, so you can make it as healthy as possible.
Similarly to hot oil fondue, you need to use the right fondue equipment. The fondue pot for hot oil fondue is the same as the fondue pot for broth-based fondue.
If you want to find out more about meat fondue recipes and other fondue recipes, visit this page or click on any of the fondue recipes listed on our sitemap.
---
Unsure How to Put It All together?
I've created a complete event guide that will show you everything you're ever wanted to know about dips and broth fondue dinners. Learn more about my Greek-Inspired Beef Broth Fondue Guide here.
It includes a complete fondue menu with recipes and drinks that complement each other perfectly along with a tried-and-tested timeline that lists every task you need to take care of to host a perfect broth-fondue dinner for 4 people, how to safely light your burner, a cheat-sheet to determine if your fondue pot is suitable, a video showing you how to place broth fondue meat on your fondue fork without using your fingers, and much, much more.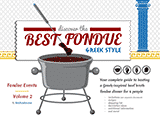 ---
More interested in having an oil fondue dinner (or fondue bourguignonne as the French call it)? No problem. I've created the same kind of complete guide, with perfectly paired, French-inspired recipes (and drinks), and a timeline that will guide you so you can have everything ready in time for your guests' arrival. You'll also get information on how to light your burner, how to determine if your fondue pot is suitable for oil fondue, nutritional information, and much more. Learn more about my French-Inspired Beef Oil Fondue Guide here.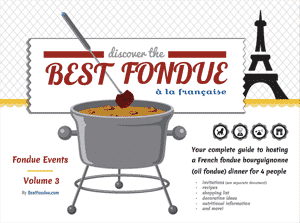 ---