Fondue Sundays Are Back!
Join the Beacon Hill Hotel & Bistro for the return of its Fondue Sundays featuring classic, French-style fondue! Suitable to be shared as an appetizer or to be enjoyed as a main course ($26.00 per pot), you'll be treated to hot French fondue served with small potatoes boiled in sea-salted water, cornichon pickled vegetables such as ramps, cipollini onions, and cauliflower, and rustic bread locally sourced from Iggy's Bread of the World as well as the Bistro's own Saucisses de Campagne, or house-made sausage.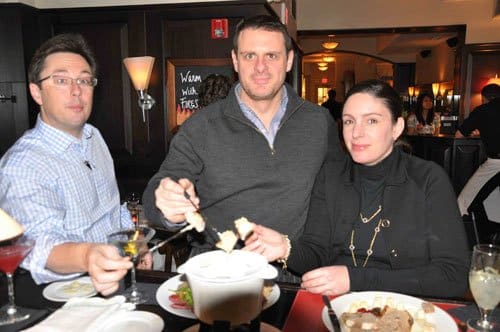 Fondue Sundays will be served in conjunction with the Beacon Hill & Bistro's regular menu, and it will be available during dinner service (5:30 PM-10:00 PM) beginning Sunday, January 8th, 2012 through the spring. Reservations are recommended by calling 617-723-7575.
---
The Beacon Hill Hotel & Bistro
The Beacon Hill Hotel & Bistro is located at:
25 Charles Street,
Boston, MA
Tel: 617-723-7575
The Beacon Hill Hotel & Bistro is adjacent to the Public Garden on the corner of Charles and Chestnut Street, easily accessible by T from either the Charles/MGH or Park Street Stations. Learn more by visiting the Beacon Hill Hotel & Bistro's website.
---
Classic Fondue in French Style
Here is a classic cheese fondue recipe generously provided by them.
| | | |
| --- | --- | --- |
| 5 ml | (1 tsp) | Kirschwasser |
| 7 ml | (1/2 Tbsp) | cornstarch |
| 3 oz | (6 Tbsp) | Dry white wine (Domaine Giachino Abymes from the Savoie) |
| Pinch | | Kosher Salt |
| 2 grinds | | White pepper from a mill |
| 5 passes | | fresh grated nutmeg |
| 2 ounces | (57 g) | Bergkäse Alpenblumer, grated |
| 2 ounces | (57 g) | Emmenthal, grated |
| 2 ounces | (57 g) | Gruyère Vieux, grated |
| 1 | | clove of garlic, minced |
1. Make a slurry with the Kirschwasser and the cornstarch. It should be thick, but pourable. Use more or less Kirschwasser to get a consistency you like. Set at the ready, next to the stove.
2. In an enameled cast iron fondue pot, add the wine, salt, pepper and nutmeg and bring to a boil.
3. Add the grated cheese all at once.
4. Whisk over heat until the cheese has melted.
5. Add the minced garlic. Whisk in your slurry, a little at a time, until the fondue has a pleasant texture.
6. Adjust the seasoning and serve hot.
---
More About this Hotel & Bistro
The Beacon Hill Hotel & Bistro is both an intimate and authentic boutique hotel, and an award-winning Bistro in Boston's historic Beacon Hill. The Hotel consists of 12 guest rooms and one in-room suite; blending both modern convenience and historical character reflected in its thoughtful and distinctive design.
The Bistro serves Breakfast, Lunch, and Dinner, as well as, weekend Brunches and is open 365 days a year.
Hours of operation are as follows:
Breakfast: Monday through Friday 7 AM to 10 AM, Saturday and Sunday 7:30 AM to 10 AM
Lunch: Monday through Friday 11:30 AM to 3 PM
Brunch: Saturday and Sunday 10 AM to 3 PM
Afternoon Bar Menu: All Week 3 PM to 5:30 PM
Dinner: Monday through Saturday 5:30 PM to 11 PM – Sunday and Holidays – 5:30 PM to 10 PM
Content provided by Image Unlimited Communications, a public relations and marketing agency located in Boston and Philadelphia.
---