Learning to make festive strawberries for Independence Day, Valentine's Day, children's parties, or any other occasion is easy. All you need is fresh strawberries (or other fruit), melted chocolate, and some sprinkles, candied eyes
, mustaches
, or other eatable decorations.
Before You Get Started
One important difference is whether or not you want to prepare your festive dipped fruits in advance.
If you want your chocolate base to solidify with a nice shiny coat (i.e. if you want to prepare your dipped fruits in advance or place them in a bouquet), you'll want to get candy melts
instead of using a regular chocolate fondue recipe. Candy melts are little pebbles of goodness that are microwavable, easy to use, don't require tempering, and can be used as-is or mixed to create the exact shade you need.
You can also add flavoring oils
like bourbon, peanut butter, pina colada, and more if you want! All you need to do is mix it in the melted coating before dipping your strawberries in it.
The chocolate fondue base and toppings you'll choose will vary depending on what effects you want to achieve. I've provided a few examples here, but feel free to experiment with more!
---
Recipe for Independence Day Festive Strawberries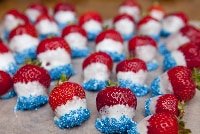 | | | |
| --- | --- | --- |
| 12 oz. | (340 g) | White, red, or blue candy melt |
| 15 | | Fresh strawberries, washed and patted dry |
| | | Assortment of blue, red, and white sprinkles |
1. In the microwave, on low power, melt the white candy melts according to the packet's instructions. You can also use royal blue
or red candy melts
.
2. Holding a strawberry by the leaves, dip it into the melted coating.
3. Immediately dip the coated strawberry into a bowl of red, blue, and white sprinkles.
4. Let the strawberries rest so the coating can solidify on a plate. You can also use a bamboo stick and create a bouquet of dipped strawberries.
---
Other Festive Strawberries
You can incorporate festive strawberries or other fruits during any of your chocolate fondue desserts.
All you have to do is offer various bowls filled with assorted sprinkles and other eatable decorations.
You can also manually add tiny beautiful details like polka dots, stripes, or hearts for Valentine's Day. All you need is a small decorating brush set like this one.
Have fun and experiment! Don't forget to share your photos of festive strawberries with other fondue fans.