Do you have something worth celebrating? This fried ice cream cake fondue recipe is delicious (but far from healthy!)
To summarize it, you'll be stuffing cake with ice cream, then freezing it (into individual bite-sized pieces) before deep-frying it in your fondue pot.
Sounds decadent?
Delicious?
Filled with fat, sugar, and calories and could possibly induce diabetes on the spot?
Yes to all of the above! So please share with friends instead of over-indulging.
---
Stuffing Cake With Ice Cream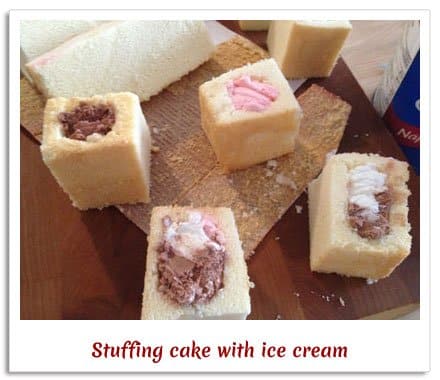 | | |
| --- | --- |
| 1 | Pound cake loaf (12 oz) |
| 3 | Scoops of your favorite ice cream (Neapolitan is great) |
1. Cut pound cake into approximately 2.5 cm (1″) cubes. Depending on the shape of your loaf, you should be able to make anywhere from 6 to 12 pieces.
2. Hollow out the center, being careful to NOT create holes in the "walls" or "bottom" of your cake containers. Leave about 5 mm (1/4″) on all sides (except the top). See the image above.
3. Carefully stuff your cake pieces with your favorite ice cream.
4. Freeze your cake pieces in an airtight container for at least a few hours (ideally overnight) so they are frozen solid.
Feel free to eat the "center" pieces as they won't be needed in this fried ice cream cake fondue recipe.
---
Fried Ice Cream Cake Fondue Recipe
When your ice-cream-stuffed cake pieces are frozen solid, you are ready to prepare this delicious fried ice-cream cake fondue recipe in an oil fondue pot like this one.
| | | |
| --- | --- | --- |
| 6 to 12 | | Frozen solid cake and ice cream pieces |
| 2 | | Eggs, beaten |
| 125 ml | (1/2 cup) | Milk |
| 175 ml | (3/4 cup) | Flour (for batter) |
| 60 ml | (1/4 cup) | Flour (extra) |
| 2 ml | (1/2 tsp) | Salt (for batter) |
| 5 ml | (1 tsp) | Salt (for oil) |
| | | Canola or vegetable oil to fill about 1/2 of your fondue pot or reach a depth of 5 cm (2″). |
1. In a small serving bowl, combine the eggs, milk, 3/4 cup flour, and 1/2 tsp of salt.
2. Heat oil over the range to 400°F, add 1 tsp of salt, then carefully transfer to fondue pot. (You can also heat it up in your fondue pot if you're feeling patient).
3. Dump extra flour on a plate.
4. Spear a solidly frozen cake cube with a fondue pot, roll it in extra flour, dip in the egg mixture and turn it so all sides are covered.
5. Fry your battered cake piece in hot oil until it's golden brown. Depending on the size of your pieces and the temperature of the oil, this should take around 30 to 45 seconds.
6. Transfer to a dessert plate and eat with a regular fork.
Note: It's best to only do one or two pieces at a time as the oil temperature will drop too much if everyone tries to deep-fry their pieces at once.
This recipe should make enough for 4 people and was adapted from an old Better Homes and Garden cookbook. The original recipe for this dessert oil fondue was kindly provided to me by another fondue fan. Thanks, Roxann!
---